A CONSCIOUS LIVING PRACTICE FOR TODAY – MARCH 27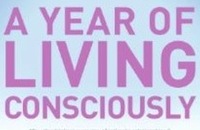 Consistency is the last refuge of the unimaginative. — Oscar Wilde
WHEN TO LEAVE AND WHEN TO STAY
I have discussed the need for unity and for autonomy in relationships in terms of its formation of the relationship: how you seek out a lover, how you approach early relationships. What about when relationships end, though? In your earliest relationships, how do you know when it's time to leave and how do you know how to leave or be left? Again, you trace the lines of your history, your heart. Those lines can tell you much about not only where you have been, but also about where you are now—and where you will be ten years from now if you make no changes. Have you ever found yourself in a relationship or a job, perhaps, that consisted mainly of misery, and suddenly found yourself thinking of the future? The thought often goes like this: I will not look back at my life in ten years…and still be here, in this. My life will not turn out this way.
The most significant factor at play as relationships draw to a close or change in status is projection. Simply, projection is the act of putting the responsibility for your own thoughts and feelings and behaviors on another. I feel angry and so I begin to notice that you seem short-tempered, and I accuse you of being angry. But why would you do this? Self-protection. In the short term, isn't it often easier to blame than to wonder, to point the finger of self-righteousness rather than to sit with your own weaknesses?
A CONSCIOUS LIVING PRACTICE FOR TODAY – MARCH 27
Give yourself some time today to think on these thoughts:
I knew my first love relationship was going to end when _____.
When the relationship ended, I felt _____.
I think that I felt this way because it mirrored _____.
Learning to perceive the truth within yourself and speak it clearly to others is a delicate skill.
Purchase "A Year of Living Consciously" by clicking the cover below: