A CONSCIOUS LIVING PRACTICE FOR TODAY – MARCH 30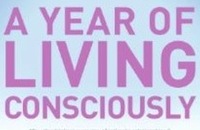 It is not because things are difficult that we do not dare; it is because we do not dare that they are difficult. — Seneca
BEING PRESENT IN YOUR BODY
Basic body awareness is an important conscious living skill, one at which we could all use more practice. If you had spent an hour a day—from first grade through high school—learning to be aware of your body and celebrating it as the miracle it is, you probably would not want to abuse it with drugs, overeating, and over-stressing yourself. Body awareness means that you can do simple but powerful things such as
Notice where you feel the flow of life energy and where you don't.
Appreciate the subtle difference between various emotions such as fear, anger, sadness, and longing.
Distinguish the difference between hunger and loneliness, for example, so that you would not eat when you're lonely.
Be able to relax your body organically, through deep breathing or other means, so that you can manage stressful situations.
A CONSCIOUS LIVING PRACTICE FOR TODAY – MARCH 30
Take ten seconds right now to scan your body with your awareness. Simply feel and sense. There are no right answers; just listen and learn what there is to learn. As you move through the day today, pause occasionally to tune in to your body sensations—for no reason except the pure joy of awareness.
Purchase "A Year of Living Consciously" by clicking the cover below: