A CONSCIOUS LIVING PRACTICE FOR TODAY – MARCH 31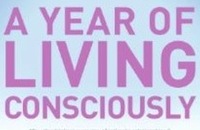 Thus in the beginning the world was so made that certain signs come before certain events. — Cicero
GOING TO THE RIGHT STORE
If you know you want grapefruit, says an ancient therapists' axiom, don't go shopping for it in a shoe store. The same thing holds true in looking for acknowledgment and recognition. Part of the art of getting acknowledgment is knowing you deserve it. Another part of the art is being smart about where you go for it. If you know a particular friend or family member is stingy with appreciation, don't bother complaining when they don't appreciate you. Just look for another store and go shopping there.
A CONSCIOUS LIVING PRACTICE FOR TODAY – MARCH 31
Make a list, on paper or in your mind, of several people you can rely on for acknowledgment. These people genuinely appreciate your being in the world, and will tell you so easefully. These are not people you have to wring appreciation out of. When you have your list, make a point today of appreciating them for appreciating you. Call them or drop them a note of appreciation.
Purchase "A Year of Living Consciously" by clicking the cover below: