A CONSCIOUS LIVING PRACTICE FOR TODAY – MAY 1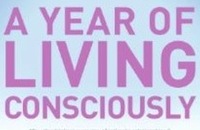 A lie would have no sense unless the truth were felt to be dangerous.
— Alfred Adler
TRUTH-TELLING
For the next several days, I am going to spend time delving into truth-telling, talking about it and practicing it. Many of you spent so many years being separated from your truth that the journey back toward it can feel long and discouraging. You will discover, though, that your essence has a built-in reward system; as you journey toward truth, you will feel a lightness and joy that is the sound of your essence finding its voice and blossoming forth after too many years pushed into silence and hiding.
A CONSCIOUS LIVING PRACTICE FOR TODAY – MAY 1
As a prelude to telling the truth in relationship to others, practice knowing and telling the truth to yourself. Stand in front of a mirror at a time when you won't be interrupted, so you can abandon self-consciousness (which is simply an obstacle you allow yourself to set up) and breathe calmly and deeply, looking at yourself in the mirror. Tune in to your physical experience as you do so and make the following observations to yourself.
Right now I feel ________.
My head feels ________.
My shoulders feel ________.
I am most aware of my ________.
I'm aware of it because it feels ________.
Purchase "A Year of Living Consciously" by clicking the cover below: