A CONSCIOUS LIVING PRACTICE FOR TODAY – MAY 13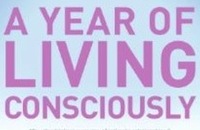 We take our shape, it is true, within and against that cage of reality bequeathed to us at our birth, and yet it is precisely through our dependence on this reality that we are most endlessly betrayed.
— James Baldwin
ZEN COMFORT
Sometimes a dose of reality, administered with love and good timing, can be the best medicine of all. A Zen student told me the following story, allegedly true: A Zen master telephoned one of his students, a woman who was dying of cancer. Friends, gathered around her, were surprised to hear her laugh at something he said. When she got off the phone she looked cheerful for the first time in days. The wisdom he imparted turned out to be nothing like they expected. He had told her, "Don't even think for a moment that you're not going to die!" On the surface this might not sound like a comforting thing to say to a dying person; on such occasions people often like to paint a pretty picture of The Great Beyond. But the Zen master knew in his heart that reality—this moment!—has all the spiritual liberation in it that anyone really needs, and his student knew it in her heart, too.
A CONSCIOUS LIVING PRACTICE FOR TODAY – MAY 13
Look at your face in the mirror. Imagine for a moment that the face looking back at you is the face of a Zen master. Tell yourself something as important and real as the Zen master in the story above told his student. What is it that the Zen master in you most needs to say to you?
Purchase "A Year of Living Consciously" by clicking the cover below: