A CONSCIOUS LIVING PRACTICE FOR TODAY – MAY 14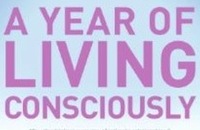 Most of the shadows of this life are caused by our standing in our own sunshine.
— Ralph Waldo Emerson
COUNT YOUR BLESSINGS
Just above the desk where Laura writes is a cross-stitch that says "Count Your Blessings." Stuck in the corners are pictures of her three young boys. When life gets most chaotic and difficult, the ironies of the pictures and the cross-stitch are a source of amusement and a reminder that there will always be dissonance in our lives—the very things that bring you the most joy are also the things that can bring you the most confusion and anguish. Kahlil Gibran wrote of grief in this same light. He said that your grief is proportionate to the joy you have known with another in relationship; the more you love, the more you feel loss when that love is changed. It is only natural that the depth of your pain corresponds to the depth of your love. I believe in refraining your confusion and pain and seeing it as an invitation to learning and to wondering. In your times of greatest distress, you are being given the gift of choice: shall you take the path you have traveled many times before, furthering your anguish, or shall you learn, wonder, grow, change, take a new path? The choice is yours.
A CONSCIOUS LIVING PRACTICE FOR TODAY – MAY 14
Find time for yourself—five minutes, ten—and sit somewhere quiet. Read through the sentence below, answering the question to yourself. When the question is answered, take your five or ten minutes to simply sit with the feelings that were generated about your greatest present pain. Beware of the part of you that will want to solve and absolve. Simply be with the pain.
Right now in my life, the greatest pain that I feel is because of _____.
I commit to knowing about this pain and I commit to learning where it came from and where it might lead me that I haven't been before.
Purchase "A Year of Living Consciously" by clicking the cover below: