A CONSCIOUS LIVING PRACTICE FOR TODAY – MAY 15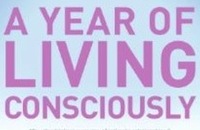 Humankind cannot bear very much reality.
— T. S. Eliot
THE COST OF SETTLING
Not long ago at the library, I ran into a friend I hadn't seen for a couple of years. I was shocked inside when I saw him. His face was drawn and haggard, and he looked ten years older than the vibrant thirty-five-year-old I remembered from before. I expressed my concern and asked him what he'd been going through. He said he'd been having a lot of marital struggles, but that he'd eventually got them straightened out. Skeptical of his answer, I asked him how he'd solved his problems. What he said chilled my heart. He said he'd lowered his expectations and decided to settle for less than what he wanted. I shared my lack of enthusiasm for this solution, and pointed out that it looked like it was causing him stress. He backed away from me quickly and said, "That's my decision and I'm sticking to it." I felt deeply saddened by his choice, then I realized the reason I felt sad was that I was probably doing the same thing unconsciously in areas of my life.
A CONSCIOUS LIVING PRACTICE FOR TODAY – MAY 15
Pause to reflect on key areas of your life. Are you settling for less in any of those areas? Are there other ways you could approach those areas that wouldn't involve compromising your values and desires?
Purchase "A Year of Living Consciously" by clicking the cover below: