A CONSCIOUS LIVING PRACTICE FOR TODAY – MAY 16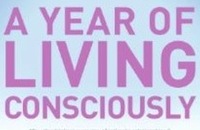 Could a greater miracle take place than for us to look through each other's eyes for an instant?
— Henry David Thoreau
MIRACLES MADE OF MAGIC
A miracle is made of magic. It is, by its very definition, something that most people believe wasn't supposed to happen—that is, of course, what makes it a miracle. A child is born to an infertile couple; a terminally ill person lives long past the early estimates; two people are somewhere they never intended to be and meet and fall in love; each of these occurrences might be called a miracle. Some miracles, then, are winks from the universe—huge and life changing and fate charged. Others, though, are waiting to happen in each choice you make, in each moment of your life. While you are waiting for fate to play its hand, a thousand miracle moments might pass you by. Take control! Know that you are in charge of the chance to have miracles in your life, your love, your relationship.
A CONSCIOUS LIVING PRACTICE FOR TODAY – MAY 16
Spend a few moments today thinking about, celebrating, and creating intentions for these things:
A miracle that has occurred in my life.
What part I played in making that miracle.
A miracle that I want in my life.
The part I will play in making it happen.
The moment you stop pretending, your healing begins.
Purchase "A Year of Living Consciously" by clicking the cover below: