A CONSCIOUS LIVING PRACTICE FOR TODAY – MAY 17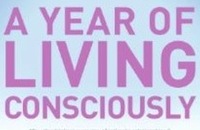 Life is a voyage that's homeward bound.
— Herman Melville
LIMITING SELF-ESTEEM
The fear of outdoing someone else—and ultimately of leaving others behind—is deeply rooted in your mind and body. Therapists in Australia call this the "tall poppy syndrome." The goal is not to stand out too tall above the other poppies blossoming in the fields. Many particularly gifted people hold themselves back from reaching their full potential because to do so would mean outshining someone else—and the someone, I should note, is often located in the distant past. You fear the loss and loneliness of abandoning others, even those who are distant ghosts.
A CONSCIOUS LIVING PRACTICE FOR TODAY – MAY 17
Think about a way in which you may have held yourself back from success for fear of outshining someone else. Are you still doing so today?
Who are you trying to protect?
How are you damaging yourself?
How can you let go of the chains you put around yourself?
Purchase "A Year of Living Consciously" by clicking the cover below: