A CONSCIOUS LIVING PRACTICE FOR TODAY – MAY 19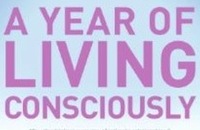 Life shrinks or expands in proportion to one's courage. — Anaïs Nin
COMMITTING TO COMMITMENT
Commitment: I commit to being close and I commit to clearing up anything in the way of doing so.
Counter-Commitment: I commit to holding back and to keeping hidden my barriers to closeness.
In the film As Good as It Gets, Jack Nicholson plays a middle-aged man who suffers from obsessive-compulsive disorder. His mental illness rules his life, and he turns bitter and nasty because of his lack of connection with others. When he falls in love and is unable to maintain a relationship because of his symptoms, he finally addresses his illness and works toward clearing up the things that stand in the way of full closeness with another. He makes the decision to do so after looking at his life and his loneliness and asking in despair, "What if this is as good as it gets?" If the choice is to hold back, to "protect" oneself, loneliness and despair is as good as it gets. If you make the choice of committing to full closeness, the possibilities are endless.
A CONSCIOUS LIVING PRACTICE FOR TODAY – MAY 19
Wonder — do not judge, do not doubt — about yourself today:
A reason that I put up barriers to closeness _____.
A way in which I put up barriers to closeness _____.
Affirmation: I commit myself to full closeness and to clearing up anything within me that stands in the way.
Purchase "A Year of Living Consciously" by clicking the cover below: