A CONSCIOUS LIVING PRACTICE FOR TODAY – MAY 2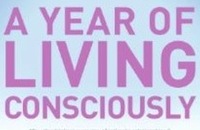 You need to find out if this is a relationship in which you can experience both unity with another person and the development of yourself as a separate being.
Can you be close and be yourself at the same time?
HONORING YOURSELF AND YOUR RELATIONSHIP
The central question for most people in a close relationship is: "Can I be me and still be with my partner?" You can learn the crucial skill of honoring your experience, who you are, and hearing your partner and honoring him or her. The ability to be present to your experience while in the company of another person, especially a romantic partner, is at the heart of building an enlightening relationship. What this requires is a commitment to knowing and honoring who you are; if you don't do this, you are at the whim of any strong fluctuations of mood and energy around you.
A CONSCIOUS LIVING PRACTICE FOR TODAY – MAY 2
Spend a few moments thinking about how you allow externals (events, or the way other people feel) to tell you how you should feel.
Answer these questions in your heart and give them room to teach you.
When my partner is in a bad mood, I often feel ________.
When things don't go my way, I'll find myself thinking about "if only's" ________.
To take me from a great mood to a lousy one, all my partner has to do is ________.
Purchase "A Year of Living Consciously" by clicking the cover below: