A CONSCIOUS LIVING PRACTICE FOR TODAY – MAY 23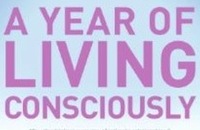 Were we fully to understand the reasons for other people's behavior, it would all make sense.
— Sigmund Freud
OPENING UP
Commitment: I commit to revealing rather than concealing.
Counter-Commitment: I commit to hiding.
Having another truly know you—at your deepest core—is at once one of the most fearful and intoxicating of human experiences. The fear stems from the worry that if you are truly known, you will not be loved, and the intoxication stems from the heady exhilaration of being able to let down your guard and be seen as you truly are. It is a paradox that unity, the very need that drives you toward relationship, is also the need that encourages you to make the choice to hide yourself. We desperately long for unity, for full connection with another, and are so fearful of rejection that we keep ourselves distant, hidden, safe. Until you make the commitment to revealing, to letting another know you as you truly are, you will not know true relationship. Your personas may become entangled with another's, but you, your essence, will not live in relationship.
A CONSCIOUS LIVING PRACTICE FOR TODAY – MAY 23
When you find that you are most frightened in relationship, allow yourself to step back and to use breathing to get in touch with your essence, the parts of your essence that fear being known. Breathe deeply, inhaling and exhaling, as you let yourself feel and know your fear, and then continue breathing to carry you through a miracle move, as you tell another the truth of yourself: I feel frightened of being known. See where it takes you, honesty.
Affirmation: I commit to revealing rather than concealing.
Purchase "A Year of Living Consciously" by clicking the cover below: