A CONSCIOUS LIVING PRACTICE FOR TODAY – MAY 24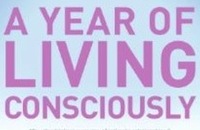 Man is as full of potentiality as he is of impotence. — George Santayana
COMMITTING TO JOY
Commitment: I commit to having a good time in my close relationships.
Counter-Commitment: I commit to suffering, to finding out how much pain I can endure without flinching.
It is an old stereotype, the John Wayne stoic who takes a bullet in the gut with a grunt, if that, but keeps on going, suffering in silence. Our culture tends to reward the stoic, the "Emotional Energizer Bunny" who keeps going and going and going. I encourage a more accepting approach to the forthright expression of emotional truth, no matter how messy that truth may be. The same is true for joy: is there any part of our culture that is truly comfortable with the gleeful, exuberant expression of joy and fun and laughter? From your earliest days, you are pressured into reining in the laughter in your heart: Settle down! Indoor voices! That's not funny! You hear these messages and many more that tell you that it is not all right to enjoy the ride. Life, love, and work are supposed to be suffered, not enjoyed—or so goes conventional American wisdom. It is time to let go of the judging voices and to let yourself feel the joy and humor that was silenced within you but wants to break free.
A CONSCIOUS LIVING PRACTICE FOR TODAY – MAY 24
Let yourself see the world differently today. In each instance when you feel frustrated (traffic is slow; you drop something; work doesn't go as you wished), let yourself find the humor in the situation. Sit back, breathe deeply, and feel laughter in your belly replace tightness and tension.
Affirmation: I commit to having a good time in my close relationships.
Purchase "A Year of Living Consciously" by clicking the cover below: