A CONSCIOUS LIVING PRACTICE FOR TODAY – MAY 27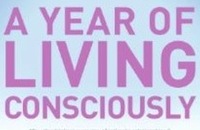 I will act as if I do make a difference.
— William James
THE DANGEROUS TRUTH
The idea of telling the truth seems dangerous to many people, but it is actually only dangerous if you resist it. I have seen the truth of that statement firsthand many hundreds of times in the therapy office. Over and over couples who are sorting out a problem caused only by lying about something come into my office. And the number-one reason they give for lying? They didn't want to hurt the feelings of the other person. One memorable couple whom I counseled had failed to tell each other about more than twenty affairs during the course of their twelve years together. When I asked them why they'd engaged in this epic deception, they gave two reasons: We didn't want to hurt the other, and we didn't want to destroy the trust between us!
One of the big delusions of life is thinking we have control over how other people feel. If we fall for this delusion, we will try to hide the truth so that people will feel the way we want them to feel. In marriage, politics, and life in general, this move inevitably leads to disaster.
A CONSCIOUS LIVING PRACTICE FOR TODAY – MAY 27
As you go through your day, you will encounter dozens of opportunities to tell the truth or hide it. You'll also have opportunities to hear the truth or shield yourself from it. Do some simple experiments in truth-telling. To a grocery clerk, for example, you might say, "I feel pressured when it's crowded like it is today. Do you ever feel that way?" Speak the truth simply, and leave room in the conversation for others to do so.
Purchase "A Year of Living Consciously" by clicking the cover below: