A CONSCIOUS LIVING PRACTICE FOR TODAY – MAY 28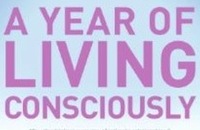 There is nothing noble about being superior to some other man. The nobility is in being superior to your previous self.
— Hindu Proverb
RESPONSIBILITY AND RELATIONSHIP
Where does responsibility fit into your priorities about relationship? It's a question that is worth asking daily—and sometimes minute by minute. There are so many levels to responsibility: the questions about daily chores and how you view the labor of life, the questions about acknowledging the ways in which you hurt others, and the questions about how you impact on the world around you. Try to reduce responsibility to its simplest level for a moment. Imagine that you return home, exhausted after a tough day of work, and see that someone has dropped a mountain of trash in front of your door. What do you do? Do you enter through the back door of the house? Do you call the local government angrily and demand that something be done? Do you wade through the garbage, leaving it, or do you—with frustration, quite likely—gather plastic bags and begin cleaning up the mess, perhaps even adding it to a compost heap or recycling bins when you finish? There will be times when all manners of things, including garbage, will be dumped in your path. How you view that garbage (as compost material, for instance, ready to enrich the soil of your relationship), and what you do with that garbage are key elements in your general approach to relationship. The essential question about responsibility is like the Watergate riff: What did I do, and when did I do it? and, most important, What can I now do to create the outcome I desire?
A CONSCIOUS LIVING PRACTICE FOR TODAY – MAY 28
For the next twenty-four hours, "Watergate" your approach to the tasks that surround you. Each time you face a task, whether it is one you enjoy or detest, ask yourself:
How (if at all) did I create this task that is facing me?
What actions of mine have created what now faces me?
What do I get out of this task?
What can I now do to create the outcome I desire?
Purchase "A Year of Living Consciously" by clicking the cover below: