A CONSCIOUS LIVING PRACTICE FOR TODAY – MAY 29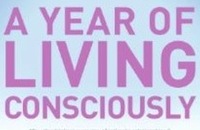 I am as bad as the worst, but, thank God, I am as good as the best.
— Walt Whitman
THE DEVIL MADE ME DO IT
Once, teaching an undergraduate class on interpersonal communication, I had a student who approached me after class saying, with great relief, that the "I" language I was teaching would help her immensely in her relationship. She had been arguing a lot with her boyfriend, and the arguing always turned mean, with name-calling and accusations. My simple suggestion that partners take responsibility for their feelings, saying, "I feel angry," rather than blaming and saying, "You made me feel angry" or, worse, "You are an idiot," seemed to bring great hope to this young woman. She promised to try this approach. A few days later, she angrily accused me of presenting a theory that doesn't work in real life. With a few questions, I reached the core of the situation. In an argument that had rapidly escalated, she remembered the lessons I taught—or so she believed. Proudly displaying her new communication skills, she announced to her partner, "I feel that you're a jerk!" Oddly enough, he still got defensive. Ever so gently, I explained to my young student that "I feel that you're a jerk" hardly meets the criteria for non-defensive, responsible communication. The secret, I have learned, is that if you put the word that after the words I feel, you're off-track. A feeling is a feeling (anger, pride, joy); anything else is almost undoubtedly an accusation.
A CONSCIOUS LIVING PRACTICE FOR TODAY – MAY 29
Today, try converting your feelings from a "you" orientation to an "I" orientation. You're doing this because it creates a less defensive communication environment and because it helps you to take responsibility for what you create.
"You" Orientation:
You made me late for work again!
"I" Orientation:
I feel frustrated that I allowed myself to be talked into helping you when I knew I'd be late for work.
You can see that with the "I" orientation you are much more likely to take healthy responsibility for it.
Purchase "A Year of Living Consciously" by clicking the cover below: