A CONSCIOUS LIVING PRACTICE FOR TODAY – MAY 3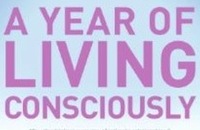 Between whom there is hearty truth, there is love. — Henry David Thoreau
TRUTH AND CONSEQUENCES
For many people, all fears create the same feeling: it's not that you're afraid of truth as a concept; it's that you don't want to deal with the fallout when it happens. There are simple ways to eliminate defensiveness in a relationship, though. Replacing it with wonder, for instance, is using a non-defensive communication pattern. If you truly accept and know your feelings and tell the truth, these patterns will flow naturally outward from that acceptance because you will be focused on your wonder rather than on your doubt or blame. Your intention to own what you feel is not yet internalized and true if your statements sound like this: "You made me angry." Instead, your statements will all begin with the "I" rather than with the "Thou," as Martin Buber, a well-known psychologist, postulates. Only you can know your truth, and only you are responsible for your truth. A key phrase that you will use on your journey toward owning your feelings will begin with "I feel," rather than with "You make me feel."
A CONSCIOUS LIVING PRACTICE FOR TODAY – MAY 3
Take a few moments alone and practice replacing the "you" statements with the "I" statements, saying them out loud. Notice the difference in the sound of your words when you replace the personal pronoun you with I.
You made me really angry.
I feel really angry.
You're irritating me again.
I feel irritated again.
You wouldn't want to go on a date, would you?
I'd like to go out with you.
You're confusing me.
I feel confused.
You're obviously upset about something.
I sense that you're upset.
You are frightening me right now.
I feel scared right now.
Purchase "A Year of Living Consciously" by clicking the cover below: