A CONSCIOUS LIVING PRACTICE FOR TODAY – MAY 30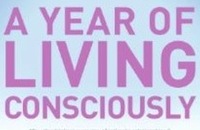 The days come and go like muffled and veiled figures sent from a distant friendly party, but they say nothing, and if we do not use the gifts they bring, they carry them silently away.
— Ralph Waldo Emerson
THE COST OF CHANGE
What do you do if someone asks you to change? Do you weigh the costs to yourself if the change occurs, and the costs to the other if it doesn't? For many of you, your self is hard-won, a building you have created from the ground up, sometimes at considerable cost as you have added on the bricks, the stones, the trim work of personality. Many of you jealously guard the sanctity of your self as if, at any moment, the fire of another's feeling might rip through the corridors and rooms, turning them to ash. There is a time, however, for compromise, a time for allowing the walls and floors and ceilings of self to become soft, giving, open to change. There is a time when you should allow others to enter your life and, as the result of their footsteps on the hallowed ground of self, leave a mark that makes you different and, somehow, better.
A CONSCIOUS LIVING PRACTICE FOR TODAY – MAY 30
Identify a part of yourself that is most like a condemned house. It's unsafe. It doesn't work for the occupant. It provides a shaky foundation at best. What are you going to do to either shore up the foundation or rebuild?
Today put your energy into thinking creatively about these two things:
The part to change.
How you're going to change it.
Purchase "A Year of Living Consciously" by clicking the cover below: