A CONSCIOUS LIVING PRACTICE FOR TODAY – MAY 5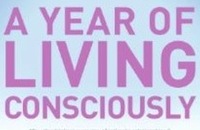 What we think, that we become.
— Gandhi
WHAT MATTERS MOST
In conscious living, one of the daily tasks is to focus your attention on what matters most. In the first session of counseling with people, I often ask them, "What matters to you most in the world?" Frequently their eyebrows shoot up in surprise, and many say it's the first time anyone's asked them that question. That's odd, isn't it? How peculiar that we can go through a day on this planet—one of the precious 25,000 days we get (on average)—without pausing to wonder if we are focusing on what matters most.
A CONSCIOUS LIVING PRACTICE FOR TODAY – MAY 5
Pause now and ask yourself this question: What matters most to me in my life? Let your mind and body answer freely. You may not like the answer you get, but it's always better to give even the unpopular response a good listening.
Purchase "A Year of Living Consciously" by clicking the cover below: