A CONSCIOUS LIVING PRACTICE FOR TODAY – MAY 8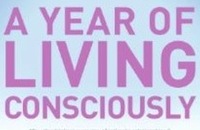 As if we could kill time without injuring eternity!
— Henry David Thoreau
CLARIFYING YOUR PURPOSE
Purpose and intention are short, to-the-point statements of what you're up to in your life. There are big purposes and intentions, such as your purpose for your life and your intentions for your career, and there are more modest ones, such as your purpose for a given conversation. Whether you're dealing with a big or little purpose, there is a palpable shift in energy when you know your purpose.
Whenever I feel confused or out of sorts, I've trained myself to take a moment to review my purpose. Life is about drifting from your purpose, then catching the drift and getting back on track. It all hinges on knowing what your purpose is. I sat down one day in the seventies and spent an hour figuring out the purpose of my life. It may have been the most important hour of my whole existence. I express my chosen purpose like this: I grow in love and creativity every day, as I inspire others who are interested to do the same. In my seminars and workshops, I've invited thousands of people to sit down for an hour and clarify the purpose of their lives. Not one of them has ever said it was wasted time.
A CONSCIOUS LIVING PRACTICE FOR TODAY – MAY 8
Pause for ten seconds and select a grand purpose for your day—to grow, for example, in love and wisdom through every interaction. Think for a moment about a satisfying goal for your day. When you've selected one, picture it rolling out ahead of you throughout the day, as a splendid purple carpet might roll out ahead of your every step. Picture your purpose smoothing the way for your every interaction throughout this day of conscious living.
Purchase "A Year of Living Consciously" by clicking the cover below: