A CONSCIOUS LIVING PRACTICE FOR TODAY – MAY 9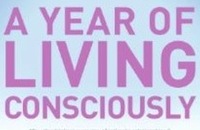 Keep me away from the wisdom which does not cry, the philosophy which does not laugh…
— Kahlil Gibran
WINKS FROM THE UNIVERSE
Laura writes: A package arrives for me in the mail on a day when I am feeling particularly harried. I have spent the morning Christmas shopping amongst the other harried shoppers, and although I want to sit with a cup of coffee and a good book, I don't allow myself the respite. Despite loving writing and counting it among the several things I do in which I can lose myself totally and joyfully, I am viewing it as a chore as I start leafing through a stack of index cards in the package, research materials that are part of a writing project. One of the fifty or sixty cards falls onto the floor and I bend to pick it up. It's been lovely, but I have to scream now, it reads. That's all it says. I let the card stay on the floor and I collapse beside it in laughter. Immediately, I call to mind a phrase of Gay and Katie's: "a wink from the universe." In this case, it means permission to know the joy of the day, to give myself a gift, to let go of the seriousness of it all for at least a while. I spend the rest of the afternoon sipping good coffee and losing myself in a wonderful novel, and when evening comes, I feel restored and focused and able to attend to my work again, but miraculously, it no longer carries the weight of work.
A CONSCIOUS LIVING PRACTICE FOR TODAY – MAY 9
Identify one thing that you have wanted to do over the last several weeks but haven't done because it seems too self-indulgent, because your life seems too busy, because you don't feel like you deserve whatever it is. Give yourself permission to do it, and keep the agreement with yourself.
The thing I have wanted to do is to ______.
I am going to do this on (date) _____.
Purchase "A Year of Living Consciously" by clicking the cover below: