A CONSCIOUS LIVING PRACTICE FOR TODAY – NOVEMBER 1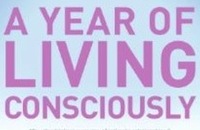 I have never seen a greater monster or miracle in the world than myself.
– Michel de Montaigne
HAPPILY EVER AFTER
There is a cartoon panel in a book I've taught from that shows a mother sitting at the bedside of her young child, reading a storybook. The cover of the book says Modern Fairy Tales. The mother is saying: "And the prince and princess learned to lower their expectations and lived reasonably contentedly ever after. The end."
Many of you watched the fairy-tale wedding of Great Britain's Prince Charles and the late Princess Diana; Laura, who at the time was the same age as Diana, writes: I watched it with chills because it looked like the fairy tales I'd heard all of my life—maybe they could actually be true! Girl meets prince, girl marries prince, and girl (magically transformed into a princess) and prince ride off in a glass coach into a life of hazy splendor. Who could help hearing, though, about the demise of the fairy tale: crying scenes at posh ski resorts, suicide attempts, binging and purging, cold distance, infidelity? So maybe, many of us thought, there are no fairy-tale endings after all.
What a shock when you learn that real life intrudes on even the most magical of fairy tales. He belches in front of her friends; she is a closet smoker; he leers at other women in front of her; she doesn't want to have sex so much once the children are born. And so on.
My hope for you on your conscious journey is one of reconciliation: I wish for you a healthy dose of the struggle that gives long-term love its depth, laced with the laughter and intimacy that layer partnership with so much richness.
A CONSCIOUS LIVING PRACTICE FOR TODAY – NOVEMBER 1
What is your fairy tale? What did you once think your marriage or long-term relationship would be like? And how has that rose-colored vision changed because of reality? Spend a few moments thinking of the fantasy versus the reality, and then answer for yourself the questions below.
What don't I have that I always thought I'd have?
What do I have that I never expected?
How far apart are my fantasy and reality?
Purchase "A Year of Living Consciously" by clicking the cover below: