A CONSCIOUS LIVING PRACTICE FOR TODAY – NOVEMBER 11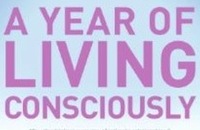 INTO THE MYSTIC
There are times—hours, days, weeks—when I live in perfect harmony with the universe. This, I believe, is the presence of love in my life.
When you allow yourself to stop resisting reality, instead moving in a state of grace with the workings of the world around you, allowing yourself to feel your deep connection to every aspect of the world, large and small, you become most open to love's power and to love's potential.
The energy you spend trying to resist and redefine the universe, which time and again proves itself most unwilling to adapt itself to your whims, is instead channeled inward to become the fullest, truest realization of yourself. Songwriter and poet Joe Cocker sings about "the mystic," which I think of as the state of grace that occurs when love is not only the actualization of truth and connection between two people but also the actualization of truth and connection between each of us—in our heartbreaking smallness and our infinite grandness—and the universe we occupy.
A CONSCIOUS LIVING PRACTICE FOR TODAY – NOVEMBER 11
You may be a person who carefully turns off lights as you leave a room, only runs water when your hands are actually in the water, and so on. Or perhaps you are less conscious of saving resources and energy. Take a hint from the first type of person and apply it for today to your personal life. Think of a way in which you can turn off the taps on your personal energy in an area where it is being wasted, recognizing that it is a limited resource. You may set a limit with someone, or you may set a limit with yourself, but identify one specific way in which you can reserve your resources for something more worthwhile to you. Focus on your feelings as you try this experiment.
Purchase "A Year of Living Consciously" by clicking the cover below: