A CONSCIOUS LIVING PRACTICE FOR TODAY – NOVEMBER 13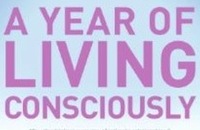 CULTIVATING GENEROSITY
Many people think of generosity as something they would do after becoming prosperous. Actually, it works the other way around. If you lead with generosity—rather than waiting for it to come to you—you'll be rewarded with much more than financial prosperity. Think of generosity first in the basic processes of daily life. Imagine, for example, what it feels like to be listened to generously. When you speak, a generous listener pays careful attention not only to the words you say but to the feelings beneath those words. You are able to speak without interruption, because the generous listener, before replying, extends his or her listening into the silence beyond your words. Now turn the tables. Imagine yourself as a generous listener, a philanthropist of loving attention. Just as John D. Rockefeller would give a shiny new dime to children who came up to him, give a shiny new space of open listening to people who come into your presence. Generous listening is a huge first step toward generating a generous spirit.
A CONSCIOUS LIVING PRACTICE FOR TODAY – NOVEMBER 13
Today, focus on a single dimension of listening: interruption. See if you can go an entire day without interrupting anyone. Discover the people you have the most trouble listening to without interruption.
Purchase "A Year of Living Consciously" by clicking the cover below: