A CONSCIOUS LIVING PRACTICE FOR TODAY – NOVEMBER 14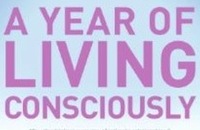 CONSCIOUS PHILANTHROPY
Almost everyone who embarks on the journey of conscious living eventually becomes a philanthropist. One person may philanthropize to the tune of millions, another to the tune of dozens of dollars, but the principle they follow is the same: The more you give, the more you get back. This is not to say that philanthropists give with the sole intention of getting back—it only means that a basic principle of life is that you get back from the universe what you put into it. If you open your heart and your pockets abundantly to the world, you are likely to be showered with abundance in return.
As you mature on the path of conscious living, there is a tendency toward simpler living. At the same time, as wisdom grows, you tend to reap more financial rewards. Often you end up with a wonderful problem: how to give away more and more. Then, since you tend to get back what you give, this problem gets bigger and bigger and bigger. Pretty soon, you may be wrestling every moment with the problem of how to receive and give vast amounts of love and money. Human beings love to wrestle with problems, so if you're going to be doing it anyway, this is not such a bad problem.
A CONSCIOUS LIVING PRACTICE FOR TODAY – NOVEMBER 14
Select an amount to give away this year. Do your best to arrive at the amount by some means other than calculating a percentage of your income. In other words, make your giving proactive and not tied to your income.
Purchase "A Year of Living Consciously" by clicking the cover below: