A CONSCIOUS LIVING PRACTICE FOR TODAY – NOVEMBER 15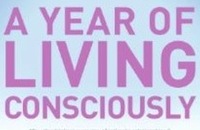 OVERCOMING OLD HURTS
In conscious living, old hurts can and should be brought to mind and body in order to face them and accept them and complete whatever unfinished business there may be. The reason is that old hurts, if hidden from the light of consciousness, often cause barriers to love and success in the present. If you get your tonsils taken out, a time will come, perhaps a day or two later, when swallowing hurts terribly. In that moment, a wise doctor or nurse will counsel you to reach for chewing gum instead of a painkiller. The reason is that the muscles around the wound must be stretched and used in order to restore the flow of circulation to them.
The same idea applies to old emotional hurts. You need to air them out, letting them move and breathe, so they don't freeze into long-term contraction.
A CONSCIOUS LIVING PRACTICE FOR TODAY – NOVEMBER 15
Think about any areas of your life that are not working as well as you'd like. As you focus on an area, ask yourself two questions: Are there wounds I haven't recovered from that are affecting this area of my life? If so, how might I heal those wounds?
Purchase "A Year of Living Consciously" by clicking the cover below: