A CONSCIOUS LIVING PRACTICE FOR TODAY – NOVEMBER 16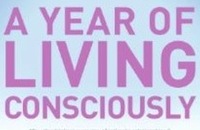 THIS PRECIOUS MOMENT
Read what several teachers of conscious living have said about time and forward movement, and about paying attention to the present.
I am just going to leap into the dark.
Francois Rabelais
There is a time for some things, and a time for all things; a time for great things, and a time for small things.
Miguel de Cervantes
Life can only take place in the present moment. If we lose the present moment, we lose life.
Buddha
A CONSCIOUS LIVING PRACTICE FOR TODAY – NOVEMBER 16
Pause for ten seconds and savor this precious moment: This is it! As you pass through this day, savor often the present reality, no matter how important or seemingly unimportant.
Purchase "A Year of Living Consciously" by clicking the cover below: