A CONSCIOUS LIVING PRACTICE FOR TODAY – NOVEMBER 17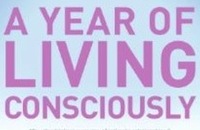 UPGRADING THOUGHT
More than a hundred years ago the great American psychologist William James said that the most important discovery of his generation was that "a human being can alter his life by altering his quality of mind." Written several thousand years before our time, the Upanishads contains the same idea: "What you think about, that you become." Earl Nightingale, a few decades ago, read more than a hundred classics of psychological and spiritual growth, and found one idea they had in common: The quality of your life can be changed by upgrading the quality of your thoughts.
It's a powerful notion, and one you can readily check out for yourself. In fact, it's only through experimentation that you can prove that this timeless concept really works.
A CONSCIOUS LIVING PRACTICE FOR TODAY – NOVEMBER 17
Right this moment, pick an area of your life that you have some negative thoughts about. Perhaps it is a relationship or your car or your job. Consciously drop one positive new thought about this area into your thoughtstream. Just one new positive thought. Then watch closely over the next few days to discover if there's a change in the outer circumstances.
Purchase "A Year of Living Consciously" by clicking the cover below: