A CONSCIOUS LIVING PRACTICE FOR TODAY – NOVEMBER 20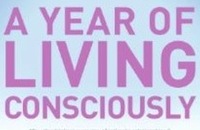 KEEPING TIME
There is a time paradox that you all live with. From the perspective of infinity, you have all the time in the world. Even though the dinosaurs were on earth over a hundred million years, it seems as though they were here and gone in the wink of an eye. From the perspective of right now, you also have all the time in the world. As long as you're fully in the present, you seem to exist in a timeless zone. But from the perspective of an insurance agent, you have a little more than 25,000 days. The agent can run a finger down the actuarial chart and tell you with amazing accuracy how long you'll be around. Did you have healthy grandparents? If yes, add a couple of thousand days. Do you smoke? If yes, subtract a bunch.
Part of being human is embracing the paradox of time—focusing on the infinite inside you and around you, yet being solidly grounded in the reality of life as a finite flicker in eternity. In conscious living, you learn to feel the radiant glow of the eternal while at the same time showing up on time for appointments. Neither one is more important than the other.
A CONSCIOUS LIVING PRACTICE FOR TODAY – NOVEMBER 20
Take a deep breath and commit yourself to living fully this moment, this day. Remember that this moment is the only one you have, and that you need to recommit to being fully present in it nearly as often as you breathe.
Purchase "A Year of Living Consciously" by clicking the cover below: