A CONSCIOUS LIVING PRACTICE FOR TODAY – NOVEMBER 21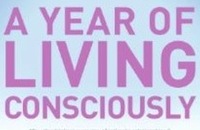 THROUGH THE GATE OF FEAR,
INTO THE ZONE OF FREEDOM
It's not unusual for you to feel fear when you take responsibility for your life. Hundreds of times in therapy I've watched people catch a wave of fear just as they've stepped into full responsibility for something. Often, for example, people will get "scared just before making a commitment to something big, like getting married or jumping into a new job.
Why does this happen?
It's because the moment you take responsibility for something, you tap into the creative forces of the universe. The universe has no problem creating an oak tree or a volcano or a dinosaur. It creates things effortlessly, because it is the source of creation. When you think of yourself as a victim, you lose sight that you are part of universal creation. You are the universe, too. People often get scared of all that power, and cower in an it's-bigger-than-me relationship with the universe. When you're feeling that you don't belong in the universe or that it's you against the universe, time to take a few deep breaths into your fear and remember that there's only one thing in the universe—whatever you want to call that one thing—and we're all made of it.
A CONSCIOUS LIVING PRACTICE FOR TODAY – NOVEMBER 21
Take a few deep breaths into your fear zone: for most of you that's in the belly. Then ask yourself, "What can I take responsibility for today?"
Purchase "A Year of Living Consciously" by clicking the cover below: