A CONSCIOUS LIVING PRACTICE FOR TODAY – NOVEMBER 22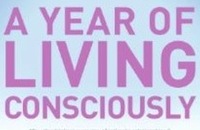 WHEN YOU DROP SOMETHING, PICK IT UP
I made a simple but life-changing discovery some years back: I was walking across my living room when I noticed a paper clip on the floor. I could feel part of me wanting to ignore it and part of me wanting to stop and pick it up. Pausing for a few seconds, I tuned in to both feelings. Suddenly I realized that for most of my life I had operated from an "I'll take care of it later" mentality, which pushed things out of my awareness that actually could be handled on the spot. So I reached down and picked up the paper clip. Instantly I felt lighter and more relaxed, as if part of my mind could be free to focus on more important things. This small incident led to dozens more observations over the next few months. Many times I caught myself noticing something and simultaneously trying to pretend I hadn't noticed it. As I gradually trained myself to handle things on the spot rather than taking care of them later, I felt a great deal more energy and ability to focus on the present.
A CONSCIOUS LIVING PRACTICE FOR TODAY – NOVEMBER 22
Put your attention on incompletions today. As you go through your day, notice any incidents of leaving things until later that could be done on the spot. Experiment with doing them as soon as you notice them, and notice the effects of these actions on your mind and body.
Purchase "A Year of Living Consciously" by clicking the cover below: