A CONSCIOUS LIVING PRACTICE FOR TODAY – NOVEMBER 23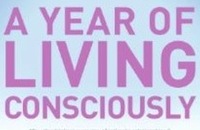 DAILY QUIET TIME
Almost everyone who journeys along the path of conscious living discovers the value of solitude. If you have found the joys of daily quiet time for yourself, congratulations. If you have yet to savor this treasure, put it high atop your priority list.
You can do a formal meditation practice in which you dedicate an hour or so a day to quieting your mind and body. Or you can do something simple and informal, such as a few minutes of breathing fresh air in the morning. On two occasions in the past week, for example, I have stopped by the ocean in the midst of a busy errand run to enjoy the sound of the waves and the sea breezes. Ten minutes of seaside solitude was all it took for me to recharge the flagging batteries and renew contact with nature.
A CONSCIOUS LIVING PRACTICE FOR TODAY – NOVEMBER 23
Today, pause at least once in your rounds to take some quiet time. Pull your car under a tree and sit for a few minutes, or get up a few minutes earlier for a morning communion with nature. Notice how your minutes of solitude affect the hours of your day.
Purchase "A Year of Living Consciously" by clicking the cover below: