A CONSCIOUS LIVING PRACTICE FOR TODAY – NOVEMBER 25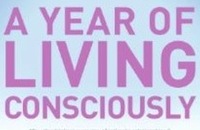 THE VALUE OF DOING NOTHING
The resistance of boredom is a powerful driving force in many peoples lives. To avoid boredom, many of us haunt the malls, eat things when we're not hungry, chatter about things we know nothing of to people we don't care about. Once, on a trip to India, I learned an important lesson about boredom. I stayed for several days at a tiny ashram in the foothills of the Himalayas. There was absolutely nothing to do there. The guru didn't even believe in yoga or meditation, considering them a futile use of time. Instead, he encouraged us to do nothing, to let ourselves be bored, and especially to let go of any notion of improvement. It was a brilliant spiritual ploy. After a couple of days of frantic urges to do something—anything!—my mind completely let go, allowing me to experience a depth of peace I had only glimpsed before.
A CONSCIOUS LIVING PRACTICE FOR TODAY – NOVEMBER 25
Sit for ten minutes today, doing nothing. If you find yourself doing nothing for some reason, such as to notice what your mind does when you do nothing, stop doing that and simply do nothing.
Purchase "A Year of Living Consciously" by clicking the cover below: