A CONSCIOUS LIVING PRACTICE FOR TODAY – NOVEMBER 26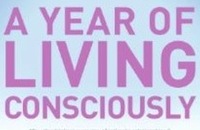 LISTENING TO FIX
Most of you listen through a "fix it" filter when you listen to others. If a friend starts to tell you about some problem, you listen to it with intent to fix. If a pain develops in your shoulder, you tune in to it with intent to fix. What would happen if you let go of your "fix it" mentality for a little while? Would you fall apart? Probably not. Very likely you would fall together.
If you listened generously to others, you would not approach others as problems to be fixed but as open spaces of creative possibility. Perhaps then you would create a world in which much less needed to be fixed.
A CONSCIOUS LIVING PRACTICE FOR TODAY – NOVEMBER 26
As you interact with people today, do your best to do unfiltered listening. Listen to people purely, as if you had no agenda other than to appreciate what they say.
Purchase "A Year of Living Consciously" by clicking the cover below: