A CONSCIOUS LIVING PRACTICE FOR TODAY – NOVEMBER 27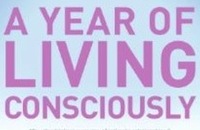 HONORING YOUR INFLUENCES
Appreciation is one of the main operating tools of conscious living. Whatever you encounter is something you, for some reason, need to encounter. Therefore, you might as well appreciate it. While it's tempting to do the opposite of appreciating—resisting the heck out of it—there is really no point. Eventually you will have to look into why you've brought a given situation into your life, so you may as well do it sooner than later.
The same is true for the positive influences that have brought you to where you are in life. If you look back over your life, you'll realize that there are people without whose influence you would never be where you are today. Honor yourself for bringing them into your life, too.
A CONSCIOUS LIVING PRACTICE FOR TODAY – NOVEMBER 27
Pause for a moment to appreciate people in your past who helped you get where you are. Begin with silent appreciations—" telepathic" telegrams. Then, if you can, express verbal or written appreciation to people. Develop the habit of appreciating people on a regular basis, and notice what happens in your life as a result.
Purchase "A Year of Living Consciously" by clicking the cover below: