A CONSCIOUS LIVING PRACTICE FOR TODAY – NOVEMBER 28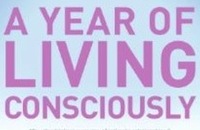 A LESSON BY THE FIREPLACE
Of all the lessons of conscious living, clearing up projection may bring you the most rapid relief from upset. I had a personal experience of the power of projection a while back. I was in front of the fireplace talking to Kathlyn. Without realizing it, I was leaning to one side, propped up at an uncomfortable angle by my arm. As the conversation continued, my side of the conversation grew more and more negative. Soon I was focusing entirely on the pain of human existence and my paltry role in it. After a while my mate gently pointed out the tone of my words and inquired, "Could it be that it's your arm hurting and not the world?" I changed my position and suddenly the world looked like a much better place.
A CONSCIOUS LIVING PRACTICE FOR TODAY – NOVEMBER 28
When you find yourself shifting toward a negative mood, change your position—either the position you're occupying in your mind or the actual physical position of your body. Notice if your mood changes.
Purchase "A Year of Living Consciously" by clicking the cover below: