A CONSCIOUS LIVING PRACTICE FOR TODAY – NOVEMBER 29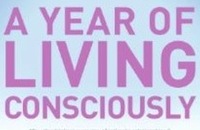 BREATHING SPACES
Conscious breathing is one of the most powerful techniques of conscious living. It also has the great benefit of being absolutely free. Pausing to take a few deep breaths at key times during the day can make your whole life run more smoothly. It only takes a few healthy breaths to pep you up when you're tired or calm you down when you're feeling overly buzzed.
Breathing is hooked up to the voluntary and the involuntary nervous system: you can take a deep breath on purpose, or you can forget about your breathing all night long while you sleep. For this reason, breathing makes a perfect place to focus your attention during your year of living consciously.
A CONSCIOUS LIVING PRACTICE FOR TODAY – NOVEMBER 29
Today, use your breath to create space in places where you might otherwise crowd yourself or others. After others speak, for example, pause to take a breath before replying. When you're feeling an emotion, pause to breathe a few times with the intention of letting yourself feel it completely. Give yourself and others room to breathe.
Purchase "A Year of Living Consciously" by clicking the cover below: