A CONSCIOUS LIVING PRACTICE FOR TODAY – NOVEMBER 5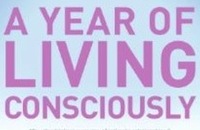 To appreciate heaven well, 'tis good for a man to have fifteen minutes of hell.
Will Carlton
COLD SHOWERS
I returned from a speaking engagement at midnight, after a grueling four-hour flight, yearning for a hot shower and a good snooze. My wife was out of town, so I let myself in, dropped my luggage, and trudged to the bathroom to take my long-awaited shower. There, I was greeted with cold water: In my absence the water heater had broken.
The next day I called my niece, Laura, and in the course of the conversation I lapsed into griping about my water-heater problems. Tongue in cheek, she suggested I lovingly embrace my cold shower and let it be a source of spiritual teaching for me. "Don't use all that conscious living stuff on me," I said, picking up on her gentle cue to lighten up. "This is serious. This is my water heater!"
Sometimes water heaters break, cars sputter to a halt on the way to job interviews, people careen around us giving us the finger when we're prudently obeying the speed limit. That's life on planet Earth sometimes, and what can we do about it?
Have a few good friends, for one thing. Have a few people we can call who'll gently remind us, as Laura did, that people did just fine without hot showers for thousands of years, and to be grateful, as I was, when the plumber came (on a Sunday, no less) and restored order to my universe.
A CONSCIOUS LIVING PRACTICE FOR TODAY – NOVEMBER 5
Today, take note of things that go wrong. Jot them down. Pause during the day and look over your list, reframing each one. Find another way to look at each troubling situation. Be your own best friend.
Purchase "A Year of Living Consciously" by clicking the cover below: