A CONSCIOUS LIVING PRACTICE FOR TODAY – NOVEMBER 6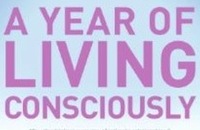 THE HOLY REAL
On my journey, I have discovered a radical surprise: any and every aspect of reality is sacred. If you go deeply into what is real, you will find all the transcendence you crave deep in your soul. Those things that are traditionally considered holy—angels, ghosts, visions of heaven—are all magnificent to those who perceive them. Yet each is arguable, so arguable that wars have been fought over the reality of them. You are going to enter the cathedral of the real, however.
If you can focus on reality instead of fantasy, you can feel spirituality moving in your body rather than simply thinking about it.
A CONSCIOUS LIVING PRACTICE FOR TODAY – NOVEMBER 6
Breathe. Just breathe. Feel your breath as it enters and exits your body, allowing it to come from deep in your belly, and allowing it to fill your lungs with clean, affirming oxygen. Slowly dismantle your protective walls, the ones that keep you in fantasy instead of reality. You will not win the lottery today, Mr. or Ms. Right is not knocking on the door, and your boss is not going to call you into the office to tell you that you've received a promotion—you are not—not today, anyway—going to be promoted to the position of king or queen of the world. Just breathe. What about reality—this moment, right here, right now—is enough? What about this moment isn't enough? You're alive, are you not?
Purchase "A Year of Living Consciously" by clicking the cover below: