A CONSCIOUS LIVING PRACTICE FOR TODAY – NOVEMBER 9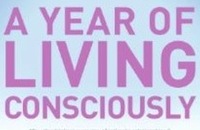 A CARDINAL LESSON
One of the key lessons of conscious living goes something like this: Get your priorities straight. Focus first on who you are inside, then let your actions come out of this wellspring of self-knowledge. Don't focus on external appearances or achievements while your inner life languishes.
In counseling sessions, I have worked with many high achievers who have won big awards, only to find themselves feeling depressed a day or two later. When I was twenty-five, I set myself the goal of getting my Ph.D. when I was twenty-eight. I put in three years of intense work, during which I barely nodded at my emotions, my dreams, my relationships. I received my doctorate within ten days of my twenty-ninth birthday, but the day after, I could hardly get out of bed. As I lay there, wondering why I felt so numb, I realized it was because I'd thrown myself out of balance through my effort, and now that it was over I wasn't sure I could get back in harmony again.
Thanks to the resilience of human beings, it's never as hard as it looks, but for a while I wondered if I would ever feel a flow of ease inside me again. Looking back, I'm glad I did the necessary work, but I wonder if I could have done it in a way that kept me more in touch with my inner world.
A CONSCIOUS LIVING PRACTICE FOR TODAY – NOVEMBER 9
As you go through your day today, pause to ask yourself now and then: Could this be easier? Could I do this in a way that lets me stay in touch with who I am inside?
Purchase "A Year of Living Consciously" by clicking the cover below: