A CONSCIOUS LIVING PRACTICE FOR TODAY – OCTOBER 1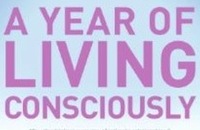 Of course there is no formula for success except, perhaps, an unconditional acceptance of life and what it brings.
— Arthur Rubinstein
SYMPTOMS AS UPPER LIMITS PHENOMENA
By now you may be familiar with the concept of the "upper limits problem," the tendency we humans have to bring ourselves back down after we've had a high time or a big win. For example, in one family Mom got a long-sought promotion. Shortly thereafter, one child developed a severe allergy to the local spring pollen, another started fighting after school, and Dad kept locking his keys in his car and calling his wife during her staff meetings. As they worked through this issue, they came to realize that each of them (including Mom) had specific fears about Mom's promotion. Would she surpass Dad in success? Would she spend less time with the kids? Would they end up having to move "to a different house? Their symptoms—fighting, sneezing, losing keys—were a way to express those fears, and when the fears were acknowledged the symptoms disappeared.
A CONSCIOUS LIVING PRACTICE FOR TODAY – OCTOBER 1
Tabulate your symptoms—physical illnesses, habits, relationship complaints. Take one or two of them and recall the last time you experienced them. Did they occur right after a period of having fun or feeling really good? If so, consider that they might be upper limits problems, ways of punishing yourself for feeling good. Consider other ways that might be easier on yourself.
Purchase "A Year of Living Consciously" by clicking the cover below: