A CONSCIOUS LIVING PRACTICE FOR TODAY – OCTOBER 10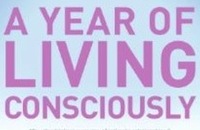 When three people call you an ass, put on a bridle.
— a Spanish proverb
CRAZY-MAKING
George Bach, a psychologist who specializes in the study of conflict management, has identified seventeen—count 'em!—roles that people take in conflict, all of them passive-aggressive. This is not to suggest that some people don't handle conflict in a direct, assertive, and positive manner; instead, it is a commentary on the great lengths to which you will sometimes go to avoid open conflict. A number of these roles are built around the failure to take responsibility for your hostility, the refusal to acknowledge anger or resentment.
Are you an avoider, a subject-changer, a joker? In these roles, you deflect responsibility by dodging the subject when conflict arises. Are you a trivial tyrannizer, someone who expresses hostilities toward a partner by doing those little things—clipping toenails in the bed, belching loudly at a party—that drive your partner over the edge, while refusing to express your anger directly? Or, might you be a pseudo-accommodator, someone who appears to give in while carrying around a vast collection of slights and resentments, storing them up over time?
Begin to think about your style of conflict, how conflict makes you feel, and whether you're ready for something new, something direct, something satisfying and growth-oriented.
A CONSCIOUS LIVING PRACTICE FOR TODAY – OCTOBER 10
With complete honesty, examine the role(s) you most often take in conflict and let yourself feel the fear and discomfort that conflict brings to you. Love your fear and your anxiety over conflict; being direct is not easy, but hiding behind the curtain of pretense is far more difficult.
Purchase "A Year of Living Consciously" by clicking the cover below: