A CONSCIOUS LIVING PRACTICE FOR TODAY – OCTOBER 11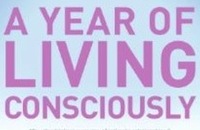 When we're afraid, everything rustles.
– Sophocles
NEW WAYS OF LOOKING AT FEAR
One of my favorite quotations is "Fear is excitement without the breath," attributed to the Gestalt therapist Fritz Perls. He is saying that the same body mechanisms that make you excited can make you scared when you forget to stay open and lively and full of breath. In other words, when you lose your commitment to full participation, you are likely to feel afraid. Then you will start looking for things to pin your fear on. And, of course, you will always find something. When you're afraid, you tend to look for the slightest little thing that will justify your giving up, pulling back.
Fear is naturally going to get stirred up when you move away from the known. As you open up your intuitive and creative powers—when you realize you have to make up life as you go—you're bound to feel afraid from time to time. It's nothing to be afraid of.
A CONSCIOUS LIVING PRACTICE FOR TODAY – OCTOBER 11
As you go through this day, take note of your fear and what triggers it. Notice whether you get scared in response to physical events (such as cars backfiring) more or less than you do with social events (such as talking to someone you don't like). There are no right or wrong answers here…just begin to notice how your fear comes and goes.
Purchase "A Year of Living Consciously" by clicking the cover below: