A CONSCIOUS LIVING PRACTICE FOR TODAY – OCTOBER 12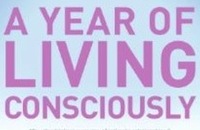 I thank God for my handicaps, for, through them, I have found myself, my work, and my God.
– Helen Keller
THE GIFT OF BLINDNESS
Some years ago, while sitting in a restaurant, I noticed a man eating alone at the table next to mine. He looked radiantly happy, which was sufficiently unusual in itself, but I also realized he was blind. I could see his guide dog curled up napping at his feet. On the spur of the moment, I asked the man if I could join him. Soon we were deep in conversation. I remember two things from our time together. He told me that his blindness was the greatest gift he'd ever received in his life. When he'd rear-ended another car and was blinded instantly, it changed him overnight from a selfish drunk to a seeker of the truth. He said it awakened compassion and consciousness in him, two things he had never known about before. I was moved by this, but the second thing he told me left me in tears. He said he wasn't sure exactly what love was, because he'd never felt it as a child or been in love as a grown-up. But his feeling for his dog, he said, was the purest love he could imagine. They were linked together in a continuous circle of service and gratitude.
A CONSCIOUS LIVING PRACTICE FOR TODAY – OCTOBER 12
Looking back over the powerfully painful moments of your life—your version of rear-ending a car and going blind—reflect on the gift that these experiences brought you. What did they allow you to feel that you might otherwise have remained unaware of?
Purchase "A Year of Living Consciously" by clicking the cover below: