A CONSCIOUS LIVING PRACTICE FOR TODAY – OCTOBER 14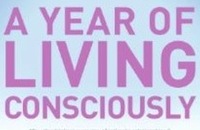 Each man must look to himself to teach him the meaning of life. It is not something discovered; it is something molded.
– Antoine de Saint-Exupéry
CONFRONTING CHAOS
How do you deal with chaos? There is the inevitable tendency of things to fall apart, no matter how hard you try to keep up a discipline of conscious living. You'll be meditating and journaling and taking care of your body, and then things will go ahead and fall apart anyway. The ancient Hindu system describes three great universal forces: creating, maintaining, destroying. In other words, things will always be born, stay the same for a while, and fall into chaos. That's not a bad way of looking at things, because it takes off the pressure to create and maintain all the time. If you give yourself permission to fall apart now and then, you lighten up on yourself so that there's more room in you to accept the inevitable changing of circumstances.
A CONSCIOUS LIVING PRACTICE FOR TODAY – OCTOBER 14
Ask yourself if you've been resisting chaos instead of acknowledging it as a valid part of life. Are there ways in which you've been clinging to certain ways of being instead of letting them fall away? If so, you may wish to open up to chaos and confusion for a while, giving yourself permission to let things change and disappear. The positive side of this is that for each falling away, something new is being born. For every chaos, a deeper level of creation and organization is trying to happen.
Purchase "A Year of Living Consciously" by clicking the cover below: