A CONSCIOUS LIVING PRACTICE FOR TODAY – OCTOBER 18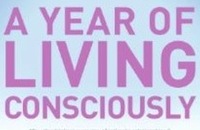 If you are lucky and work very hard, you may someday get to experience freedom from the known.
— J. Krishnamurti
LETTING GO OF KNOWING IT ALL
One of the chief problems that I've observed with living in an information-saturated age is that information itself becomes a potential addiction. I've noticed, during several silent retreats I've taken, that I go through a period of withdrawal from news, stock quotes, and sports scores. After about three days the urge to know it all begins to fade, but those first few days can be uncomfortable.
In conscious living workshops, I often have students get comfortable with saying the phrase "I don't know" over and over dozens of times. Each time they say it, I invite them to feel themselves getting more and more comfortable with not knowing. It's often illuminating for people to relax into conscious "not knowing." In a world in which being right is often an important value, it can be a real relief to feel okay about not knowing it all.
A CONSCIOUS LIVING PRACTICE FOR TODAY – OCTOBER 18
Say the phrase "I don't know" ten to fifteen times. Each time you say it, accent a different word. Each time, pause for a few seconds to feel the quality of not knowing in your body.
As you move through this day, be sensitive to moments when you could use "I don't know" sincerely. Use it as often as you can, and notice the results.
Purchase "A Year of Living Consciously" by clicking the cover below: