A CONSCIOUS LIVING PRACTICE FOR TODAY – OCTOBER 2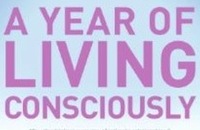 This is it!
– From Leap of Faith by Kenny Loggins
YOUR WINDOWS OF DESTINY
Think of it:
A sprinting youngster skids to a halt, takes a jump shot at the buzzer, and ices the game.
A businessperson takes a deep breath and commits funds to a vision.
A field-goal kicker tunes out the roaring crowd, puts toe to pigskin, and clinches victory.
Two lovers let go of the past and make a commitment in the present.
A boardroom stalemate suddenly breaks through into resolution.
Everything important in life comes down to ten-second windows of opportunity where you move or stay put. If you move you might lose. If you don't you'll never know.
A CONSCIOUS LIVING PRACTICE FOR TODAY – OCTOBER 2
As you go through your activities, be on the lookout for those tiny moments of opportunity that could change the course of your day and your life in a positive direction. Live in the question: What will it take for me to execute successfully in my windows of destiny?
Purchase "A Year of Living Consciously" by clicking the cover below: