A CONSCIOUS LIVING PRACTICE FOR TODAY – OCTOBER 20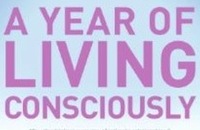 We do not see things as they are. We see them as we are.
— The Talmud
SEEING THROUGH PROJECTION
One of the biggest breakthroughs you can make on the path of conscious living is to understand how projection works. Think of a movie projector shining through a film negative, projecting a picture on the big screen fifty feet away. Imagine what happens if a fly crawls across the surface of the projector's light. The audience laughs as it sees a magnified version of the fly on the movie screen. The same phenomenon plays havoc in daily life. Some small mood-shift will occur inside you, for whatever reason, and this tiny fly in your consciousness causes you to see the events of life differently. For example, you might be enjoying a wonderful meal at a four-star restaurant, when suddenly the person across the table tells you something you don't like. Now the food doesn't taste good, although nothing has changed but your own internal state.
It takes a genuine act of heroism to say, "The food's the same; I just don't taste so good right now."
A CONSCIOUS LIVING PRACTICE FOR TODAY – OCTOBER 20
Every hour or so today, pause for a few seconds to ask yourself a question, "How is my mood affecting how I see the world right now?" Begin to develop a facility for noticing how your state of consciousness affects the movie that's playing on the big screen of your life.
Purchase "A Year of Living Consciously" by clicking the cover below: