A CONSCIOUS LIVING PRACTICE FOR TODAY – OCTOBER 21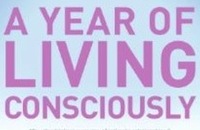 Failure is success if we learn from it.
— Malcolm Forbes
LEARNING FROM BARRIERS
Conscious living depends on the ability to live with a single question at hand: What can I learn from this? This question is particularly important when confronting barriers. By coincidence, just today I received two major rejections (a screenplay was rejected by two studios) and three major wins (foreign publishers made generous offers for rights to publish my books). If you greet each barrier with the wrong question—"What's wrong with me?" or "What's wrong with them?"—then you have to make each step of the process about what's wrong. This slows down the journey to a crawl, because then you have to greet each win with another set of useless questions—"What's right with me?" and "What's right with them?" What makes the journey smooth and fast is to greet each barrier (or each win) with a bow and an inquiry into what you can learn from it.
A CONSCIOUS LIVING PRACTICE FOR TODAY – OCTOBER 21
Write the question "What can I learn from this?" on several pieces of paper or "sticky notes." Put these notes in prominent places where you'll see them as you go through the day. When you see them, take a moment to ask the question about the most recent event, positive or negative, that comes to mind.
Purchase "A Year of Living Consciously" by clicking the cover below: