A CONSCIOUS LIVING PRACTICE FOR TODAY – OCTOBER 23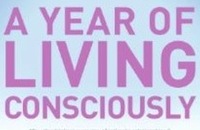 Do not make yourself so big
You are not so small.
— Jewish proverb
PLEASING THE PLEASER
If you took all the approval-seekers out of the world, the population would drop by at least a fourth. A large number of you wear shrink-to-fit personalities, and are always on the lookout for what you could do to please others. The problem is, after you've made a few dozen chameleon-like changes in yourself during the course of the day, you may find when you go looking for your true self that there's nobody home.
There's a fine art to pleasing others without compromising yourself. There's nothing wrong with acting in ways that give pleasure to others, as long as you don't harm your own sense of being in the giving of pleasure. The moment you start seeking approval at the expense of yourself, though, you've made the first step in a slow process of eroding your own self-esteem.
A CONSCIOUS LIVING PRACTICE FOR TODAY – OCTOBER 23
As you interact with people today, notice whether you compromise any of your values by trying to please them. Also, notice if you suspect others are compromising any of their values to please you.
Purchase "A Year of Living Consciously" by clicking the cover below: